Phil's Vintage 8mm, Super-8 and 16mm Films and Projectors
---
SUPER-8 SOUND CARTOONS

Complete cartoons, Like New to Mint condition on 200' reels. All cartoons not in original boxes will be in plain or Movie Classics boxes. All Magnetic Sound unless noted.
Derann prints are from the 1990's. All Low-Fade stock prints were made after 1983.

Updated August 18, 2023

Click HERE for BLACK & WHITE SOUND CARTOONS
---
SUPER 8 SOUND COLOR CARTOONS
A WALT DISNEY CHRISTMAS

- Highlights from these classic Christmas themed cartoons; "Toy Tinkers", Santa's Workshop", The Night Before Christmas", Pluto's Christmas Tree". Excellent

Eastman

Color.

Near Mint, 400' in the OB - $59

MICKEY MOUSE THE FIRST 50 YEARS (silver edition)

- Highlights from these classic Mickey Mouse cartoons; "Steamboat Willie", "The Band Concert", "The Sorcerer's Apprentice", The Mickey Mouse Club" and many more.

Faded

Eastman

Color.

Near Mint, 400' in the OB - $49

GOOFY'S GOLDEN GAGS

-

Highlights from these Goofy color cartoons; "Goofy's Glider", Baggage Buster", Art of Self-Defense", Tiger Trouble", "Knight for a Day". Excellent

Eastman

Color.

Near Mint, 400' in the OB - $59

Warner Brothers Cartoons

- Merrie Melodies and Looney Tunes. All Mint condition Eastman Color prints with faded to reddish color in white or generic boxes: BUCCANEER BUNNY, CORNY CONCERTO - $29 each
LIL WHOPPER

- Terry-Toon Deputy Dawg Cartoon - From early 1960's. Much of the comedy in the cartoons is sight gag/action based, with additional humor provided by comical dialects and stereotypical southern characteristics. Many storylines involve Deputy Dawg battling with peculiar locals and trying to please the Sheriff, as well as protecting his produce from Muskie and Vince.

Mint

Eastman

Color

Estar print with Excellent color

- $39

SCAREDY CAT DOG

-

Hannah-Barbera Pixie

and Dixie cartoon

. Two mice, the bow-tied Pixie and the vested Dixie, and Mr. Jinks the Cat impersonating Marlon Brando who is always outfoxed by the mice, causing him to utter his trademark line "I hates those meeces to pieces!" Mint

Eastman

Color

Estar print with Excellent color

- $39

THE TALKING MAGPIES

(2) - 1946 Terrytoon. The magpies (pre-Heckle & Jeckle) move into a nest in a tree right outside Farmer Al's bedroom window. Chaos ensues as the magpies and the farmer try to best each other. The first Heckle and Jeckle cartoon. Like New Mylar Eastman Color CineMagnetics print, reddish fair color - $25
SUPERMAN CARTOONS

SUPERMAN CARTOONS

- The Fleischer Superman cartoons from the early 1940's are a series of seventeen animated short films released in Technicolor by Paramount Pictures and based upon the comic book character Superman, making them his first animated appearance. These are all Niles Film Product's mylar base

Eastman

Color

prints in Mint condition in the OB:
BULLETEERS, THE MUMMY STRIKES, JUNGLE DRUMS - $39 Each


GYPSY LIFE

- 1945 Terry-Toon cartoon. A Mighty Mouse cartoon which sees Mighty Mouse protect a group of gypsy travelling mice from a colony of bats. Like New

Eastman

Color

print is reddish, in a worn OB - $20

FELIX THE CAT AND THE GOOSE THAT LAID THE GOLDEN EGG

- 1936 Van Beuren Felix the Cat cartoon. Reddish Eastman Color Niles Films print, Mint in the OB - $25
GERALD McBOING-BOING - 1950 UPA classic. The story of a little boy who would only talk in sound effects. With story by Dr. Seuss, this cartoon won the Oscar for best animated short subject for 1950. Excellent+ Mylar Eastman Color print with faded color in the OB - $29

HOW NOW BOING BOING

- 1954 UPA cartoon. Gerald is taken to see Professor Joyce, Teacher of Voice. It's brought to a resolution of sorts here, as Gerald and his parents turn to science and technology for a communication breakthrough. Excellent condition,

Eastman

Color

estar print with very good color - $39

THE EMPEROR'S NEW CLOTHES

-

1953 Columbia Pictures UPA cartoon.

This is a wonderful adaptation of the Hans Christian Andersen fairy tale, done with typical attention to detail by the UPA studio and featuring the voice of Hans Conreid.

Beautiful Near Mint

Eastman

Color

Estar print with very good color - $39
BRER RABBIT AND THE TAR BABY

- Walt Disney highlights reel from "Song of the South". Reddish

Eastman

Color.

Like New in the Mint condition OB - $29

THE SPIRIT OF '43

- A special Walt Disney cartoon made in 1943 for the war effort. Donald Duck deals with income taxes and their benefit to the American war effort in this inspirational documentary short animated film. Body only of this rare cartoon with Donald Duck, no titles. Like New condition, fair quality EASTMAN Color dupe print, on a 200' reel - $20

DREAMS AND SCHEMES

- Columbia Pictures Mighty Hercules cartoon by TransLux for television. Mylar film base print with slightly faded

Eastman

Color.

Mint in the OB - $29

THE LOAN RANGER

- 1966 TV cartoons. Mint condition with reddish Eastman Color: EL CONQUISTADOR, CULT OF THE BLACK WIDOW, VALLEY OF THE DEAD (2) - $20 each
UB IWERKS COMI-COLOR CARTOONS




The following Cine-Color cartoons are all

Eastman

Color

Blackhawk Films prints (unless noted) in Mint condition in the OB. Cine-Color films are dominately reds and blues. Although Mint condition, these prints have very good ($39) to faded reddish ($29) color:


BRAVE TIN SOLDIER - $39
TOM THUMB - $39
LITTLE RED HEN - $39
THE HEADLESS HORSEMAN - $29


SUMMERTIME - $29
JACK FROST - $29
JACK AND THE BEANSTALK - $29

---



BETTY BOOP CARTOONS
Re-Animated In Color
WOODLAND CAFE

- 1937 Walt Disney Silly Symphony. A nightclub, staffed and frequented entirely by insects. Lighting provided by fireflies, card games dealt by centipedes. The stage show has a good girl beetle resisting the advances of a bad-boy spider. Everyone dances to the Cab Calloway cricket orchestra to the2tune of "Everybody's Truckin'". Mint, beautiful

AG4S

Color

Derann Estar print with outstanding color in the OB- $129

GINGER NUTTS CHRISTMAS CIRCUS

- A British David Hand Animaland cartoon from 1949. A sold-out show for the Christmas Circus can't stop Boko, a cantankerous parrot, from weaseling Willie Weasel's tickets away. Squirrel Ginger is the ringmaster for an animal circus. A great cartoon in excellent

3M

COLOR

in the Walton Films OB. Mint condition - $39

THE PINCUSHION MAN (BALOONLAND)

- 1935, Celebrity Productions cartoon. "The Pincushion Man" is produced by Ub Iwerks as part of the ComiColor Cartoons series. The cartoon is about a place called Balloon Land, whose residents are made entirely out of balloons. The villain in the cartoon is the Pincushion Man, a character who walks around Balloon Land popping the inhabitants with pins. This print is made from an original

Cine

Color

16mm Castle Films print and is very good color and quality. Mint condition on a full 200' reel - $49
---

WALT DISNEY CARTOON AND FEATURE HIGHLIGHTS



---
WARNER BROTHERS LOONEY TUNES CARTOONS

The classic Looney Tunes cartoons, most featuring Porky Pig and Daffy Duck. All originally made in Black and White from 1935 to 1943. The prints are made by Hollywood Film Exchange and Glenn Photo and from the original Guild Films prints released to TV in 1954.
All are in Mint condition - $59 Each

THE DUCKTATORS
PUSS N' BOOTY
SAPS IN CHAPS

MEET JOHN DOUGHBOY
PORKY'S PREVIEW
DAFFY'S SOUTHERN EXPOSURE

PORKY'S MIDNIGHT MATINEE
PORKY'S RAILROAD
TOKYO JOKYO

WHO'S WHO AT THE ZOO
DING DONG DADDY
DAFFY COMMANDO
UB IWERKS FLIP THE FROG CARTOONS



Flip the Frog is a classic Ub Iwerks cartoon star produced from 1930-1933 for MGM. Flip is typically seen either opening a new business or trying to find work, but ends up in trouble due either to interference from depression-era threats or from his own clumsy nature. All black & white unless noted.

Mint Blackhawk Films black & white (unless noted) prints in the OB - $49 Each


PUDDLE PRANKS
TECHNO-CRACKED
ROOM RUNNERS
SODA SQUIRT

NURSEMAID
THE NEW CAR (2)
FUNNY FACE
CUCKOO MURDER CASE (2)

FIDDLESTICKS - The first
2-strip color cartoon in

EASTMAN

Color

BULLONEY - Another 2-strip color cartoon in

EASTMAN

Color

---
PIANO TUNERS

- 1932 RKO Van Beuren cartoon with Tom and Jerry. One of the best of the Tom and Jerry series produced in the early 1930s by the Van Beuren studio. Features some great gags and musical selections including "Margie" and "Doin the New Low Down". Music synchronization by Gene Rodemich. Vocal on "The New Low Down" by Margie Hines. Mint Thunderbird Films print in the OB - $49

THE KING OF BUGS

- 1930 Aesop's Fables cartoon. A procession of ants march along, as the soldiers escort the king to Ye King's Tournament. Inside, a spider, a bug in a rabbit suit, and a bug in a turtle suit run in a race. The competition is fierce. Chaos breaks out as the spider kidnaps the princess, and everyone rushes to save her. Thunderbird Films print, Mint in the OB - $39

A CLOSE CALL

- 1929 Aesop's Fables cartoon.

Mice in love make plans for their wedding when a cat kidnaps the female and she has to be rescued.

Thunderbird Films print, Mint in the OB - $39
POPEYE The Sailor Cartoons

- Classic Max Fleischer black and white Popeye cartoons from 1933 to 1943:
EUGENE THE JEEP, CUSTOMERS WANTED, POOP DECK PAPPY, I SKI LOVE SKI YOU SKI - Niles Film prints, Mint in the OB -$39 each

IN MY MERRY OLDSMOBILE

- Max Fleischer Sing Along cartoon promoting Oldsmobile cars. Mint Blackhawk print, about 110', in the OB - $29
BETTY BOOP CARTOONS

BETTY BOOP CARTOONS

- 1933 to 1936 Max Fleischer Betty Boop cartoons. Mint Thunderbird and Niles Films prints in the OB's - $39 each:


HAPPY YOU MERRY ME
NO! NO! 1000 TIMES NO!
MY FRIEND THE MONKEY
A CLOSE CALL

CRAZY TOWN
DING DONG DOGGY
BETTY IN BLUNDERLAND
BETTY BOOP AND HENRY

POOR CINDERELLA
BABY BE GOOD
BETTY BOOP AND THE LITTLE KING


POLAR PESTS

-

Walter Lantz Chilly Willy cartoon in Like New condition in the OB - $29

INSPECTOR WILLOUGHBY CARTOONS

- Walter Lantz cartoons, All Like New condition in the OB:
ROUGH AND TUMBLEWEED, CASE OF THE RED-EYED RUBY - $29 each
THE JAYWALKER - 1956 UPA cartoon. Clever cartoon that is almost a textbook example of UPA's work. Mint in the OB - $29
THE MOUSE AND THE LION - Walter Lantz Fable cartoon. Like New condition in the OB - $29
THE LION (2) - David Hand Animaland Cartoon. Mint Walton black & white print in OB - $20
All Films On This Page Are Super-8 Magnetic Sound Only.
Check back often as I'll always be adding more titles !
---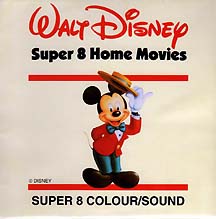 ---
Any item or film that is in RED TEXT means that it is on hold, but I haven't yet received the order. This means when I receive the order I will remove the item, or if I do not get the order I will leave it listed and change the red text to black.
Go to ORDERING INFORMATION if you are ready to place an order or want to call me or send an Email.
This Site Is Designed And Copyright 1999 - 2023 By Phil Johnson
Do not use images or contents on any other web site or in print.