Phil's Vintage 8mm, Super-8 and 16mm Films and Projectors
---
8MM MAGNETIC SOUND FEATURES


Updated October 6, 2022

The films on this page are for showing on standard / regular 8mm magnetic sound projectors, or dual-8 sound Eumig models, only (although they can be run on 8mm silent projectors).

These cannot be run on super-8 projectors.

All are on multiple 400' reels and in black and white unless noted. OB indicates the film is in it's original box. Condition is generally Excellent to Mint.
---
THE ENFORCER (MURDER, INC.)

-

Warner Brothers, 1951. Starring Humphrey Bogart, Zero Mostel and Everett Sloane. After years of pursuit, Assistant D.A. Martin Ferguson has a good case against Murder, Inc. boss Albert Mendoza. Mendoza is in jail and his lieutenant Joseph Rico is going to testify. But Rico falls to his death and Ferguson must work through the night going over everything to build the case anew.

Humphrey Bogart makes this film, and if you like him, you'll love this. Slightly abridged, Mint print on 4x400' plastic reels in metal cans - $179
OH, MR. PORTER!

- British MGM, 1937. Starring Will Hay, Moore Marriott and Graham Moffatt. With the help of a relative, a hopeless railway employee is made stationmaster of Buggleskelly. Determined to make his mark, he devises a number of schemes to put Buggleskelly on the railway map, but instead falls foul of a gang of gun runners.

An absolutely classic comedy on every frontier, the chemistry between the three leads is perfect, with each actor pulling his own weight to deliver in this comedy gem that has often been hailed as one of the best British comedies of all time. Mint condition Walton print on 4x400' reels in metal cans - $169

ASK A POLICEMAN

- British MGM, 1939. Starring Will Hay, Moore Marriott and Graham Moffatt. The mirthful adventures of Police-Sergeant Samuel Dudfoot and his two constables, Albert Brown and Jeremiah Harbottle, who stage a fabricated crime-wave to save their jobs and then find themselves involved in the real thing.

Mint condition Walton print on 4x400' reels in metal cans - $169
MAN EATER OF KUMAON

- Republic Pictures, 1948. This jungle adventure in India stars Sabu, Joanne Page and Wendell Corey.

A doctor hunts a vicious, man-eating tiger that terrorizes a native jungle village. In time the doctor experiences a personal change when he accepts their native customs and beliefs.

Well staged attacks on humans and animals, and a sensational sequence when the tiger fights a crocodile, are very exciting and beautifully photographed. Includes Castle Films short TERROR OF THE JUNGLE at the end of reel four. Mint condition Walton Films print on 4x400' reels in the OB's - $149
WHIRLPOOL

- Fox, 1949. Starring Gene Tierney, Richard Conte, Jose Ferrer and Charles Bickford. A woman secretly suffering from kleptomania is hypnotized in an effort to cure her condition. Soon afterwards, she is found at the scene of a murder with no memory of how she got there and seemingly no way to prove her innocence. Walton Films abridged feature on 2x400' reels in metal cans, Near Mint - $79

BUCKSKIN FRONTIER (THE IRON HORSE)

- United Artists, 1943. Starring Richard Dix, Jane Wyatt and Lee J. Cobb.

Dix makes an affable good guy as he tries to get a railroad built that Victor Jory wants to sabotage for selfish reasons. Cobb's the wild card whose freight-haulers also want to sabotage Dix. In fact, the plot's a rather interesting mix of shifting alliances, along with a fine cast of movie veterans and up-and-comers like Wyatt and Cobb.

Walton Films abridgement on 2x400' reels in metal cans. Near Mint - $79

REIGN OF TERROR

- Eagle-Lion Pictures, 1943.

Starring Bob Cummings, Richard Basehart and Arlene Dahl. Robespierre, a powerful figure in the French Revolution and the subsequent Reign of Terror, is desperately looking for his black book, a death list of those marked by him for the guillotine and a key to help him eventually emerge as the country's dictator. He hopes his agents will recover it, but, if it falls in to the wrong hands, it would mean his political ruin and death. This is a masterpiece, far more intriguing and suspenseful than most epic films dealing with the same subject. The film noir quality and acting are superb. Like New print on 5x400' reels in cans - $179

ROAD TO MOROCCO

- Paramount, 1942. Stars Bing Crosby, Bob Hope, Dorothy Lamour and Anthony Quinn. Two carefree castaways on a desert shore find an Arabian Nights city, where they compete for the luscious Princess Shalmar. Some of the most memorable scenes from any of the "Road" films occur in "Road to Morocco". Like New on 5x400' reels in metal cans - $149
MEETING AT MIDNIGHT (BLACK MAGIC)

- Monogram Pictures, 1944. Stars Sidney Toler and Mantan Moreland. Charlie postpones his trip home to Honolulu to help with the investigation of murder involving number one daughter (Frances Chan) and Birminghaman, an easily spooked chauffeur. Great quality print on 4x400' reels - $119

MAN ON THE EIFFEL TOWER

- France, 1950. Starring Charles laughton, Franchot Tone, Burgess Meredith and Jean Wallace. French police inspector Maigret investigates the murder of a rich Paris widow and ends up chasing the killer up the Eiffel Tower's girders. Originally made in color, this is a black and white print. Like New Walton Films abridegment on 4x400' reels in the OBs - $99

SUNDOWN

- Walter Wanger Productions, 1941.

Starring Gene Tierney, Bruce Cabot and George Saunders. Englishmen fighting Nazis in Africa discover an exotic mystery woman living among the natives and enlist her aid in overcoming the Germans.

Interesting settings and a good cast contribute significantly to this solid drama about intrigue in the desert during the Second World War. In features Gene Tierney in a role that makes particularly good use of her elegant beauty. Slightly abridged Walton Films print, Mint condition on 4x400' reels in cans - $139

DARK WATERS

- United Artists, 1944. Stars Merle Oberon, Franchot Tone and Thomas Mitchell. Film-noir drama of a woman that returns to the USA after a German u-boat sank her ship, and finds out that someone wants to kill her for her inheritance.

This independent film released by United Artists veers right down the middle between Gothic horror and noir. Slightly abridged Walton Films print, Mint condition on 4x400' reels in cans - $139

THE TIGER AND THE FLAME

- India, 1953. A sweeping historical epic made in India by Indian filmmakers with some help from the West, including noted Hollywood cinematographer Ernest Haller (Gone With The Wind). Originally made in Technicolor, this is a black and white print on 6x400' reels - $99
SONS OF THE DESERT

- 1934 Laurel and Hardy comedy with Charley Chase and Mae Busch. So that he and Stan can sneak away to Chicago and attend the annual "Sons of the Desert" lodge convention, Ollie pretends to be sick, and gets a doctor (who turns out to be a veterinarian) to prescribe a long ocean voyage to Hawaii. Considered to be their best feature. Near Mint Blackhawk print on 4x400' reels in a worn OB - $99
Another Near Mint print on 2x600' reels in Bonham cases - $99

WAY OUT WEST

- 1937, Stan Laurel & Oliver Hardy, James Finlayson and Rosina Lawrence.

Stan and Ollie are charged with delivering the deed to a valuable gold mine to the daughter of a dead prospector. However they reckon without the machinations of her evil guardian Mickey Finn who is determined to have the gold mine for himself and his saloon singer wife Lola.

Like New on 4x400' reels in the OB - $99

PACK UP YOUR TROUBLES

- 1932 Stan Laurel & Oliver Hardy comedy with James Finlayson.

The boys' Army buddy, Eddie Smith, is killed in the trenches in France, leaving his baby girl an orphan. Back home after Armistice, they try to find Eddie's father and turn the child over to him. Unfortunately, they keep coming up with the wrong Smiths, and in the process disrupt a wedding by proclaiming the baby to be the groom's child. Excellent used condition on 3x400' reels in a worn OB - $69
SWISS MISS - 1938, Laurel and Hardy, Walter Woolf King, Grete Natzler, Eric Blore. Stanley and Oliver are mousetrap salesmen hoping to strike it rich in Switzerland, but get swindled out of all their money by a cheesemaker is this musical comedy. Excellent+ used condition on 4x400' reels in the OB - $89

SAPS AT SEA

- 1939, Laurel & Hardy. After working in the noisy horn factory, just the sound of one drive Oliver into a violent fit. Dr. Finlayson prescribes a long, restful sea voyage, so Stan and Oliver rent a boat and set sail, unaware that escaped killer Nick Grainger has stowed away onboard. Like New on 3x400' reels - $69

A CHUMP AT OXFORD

- 1938, Laurel and Hardy. This is the American featurette release. Excellent+ Blackhawk print on 2x400' reels in the OB - $49

THE FLYING DEUCES

- 1939 Laurel and Hardy feature condensation by Walton Films. Also starring Charles Middleton, Jean Parker and Jimmy Finlayson. Oliver is heartbroken when he finds that Georgette, the inkeeper's daughter he's fallen in love with, is already married to dashing Foreign Legion officer Francois. To forget her, he joins the Legion, taking Stanley with him. Near Mint on 3x400' reels - $69
---
Click HERE to buy an
8MM SOUND PROJECTOR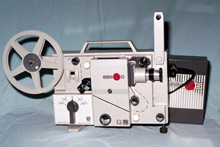 ---
---
Any item or film that is in RED TEXT means that it is on hold, but I haven't yet received the order. This means when I receive the order I will remove the item, or if I do not get the order I will leave it listed and change the red text to black.
Go to ORDERING INFORMATION if you are ready to place an order or want to call me or send an Email.
This Site Is Designed And Copyright 1999 - 2022 By Phil Johnson
Do not use images or contents on any other web site or in print.